Fry Industries Inc. is your complete resource with any and all well and well drilling services. We serve the needs of residential and commercial properties throughout the area, delivering everything from well inspections and repair, to hot water and irrigation well drilling in Sprague River, Chiloquin, Beaty, Klamath County, and Hildebrand, OR. Take a look at how we're prepared to serve you.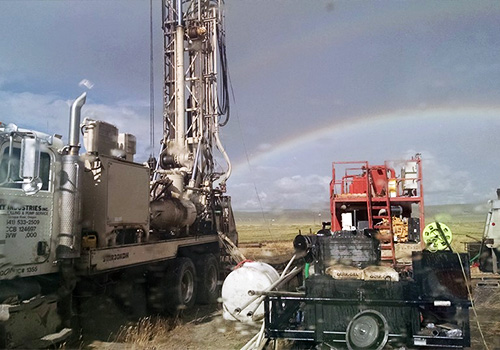 Water Well Drilling

Our decades of experience with water well drilling in Klamath County and Lake County, OR has led us to become one of the foremost authorities for residential and commercial well drilling jobs. From hot water to agricultural wells, we can drill and grout them all using a variety of drilling techniques that include air or mud rotary and reverse circulation. We define the approach based on your property and well type, then make sure we're executing with your project requirements in mind.

Well Work

Our top priority is completing quality water well projects while maintaining a safe environment. Whether this means reconditioning an old well or rehabilitating one that has become contaminated, you can count on us to remediate it properly. We can repair casings or grout, assess well integrity and repair damage to well caps to prevent future contamination. If you're experiencing problems with your well, we're prepared to assist.

Well Locating

With knowledge of the local water table and the equipment necessary for well locating exploratory drilling, we're the company to call if you're looking at the viability of a well on your property. More than just for potable water, we can test and validate other types of wells, including for well locating geothermal installations. With our team on your side, you can rest assured your well will be drilled and plumbed in the best possible position.

Well Inspections

Suspect a problem with your well or issues with contamination? Allow us to conduct a thorough well inspection in Klamath County and Lake County, OR. We'll go through a comprehensive review of your well's integrity, condition and any external factors that may be affecting it, as well as testing of the water and other essential evaluations. We'll deliver a final report that details the precise condition of your well, so you know how to proceed.
Resources
Contact the Well Experts
When it comes to wells, we're the experts. Fry Industries Inc. aims to make sure whatever drilling, well work rehabilitation, or inspection needs you have are taken care of appropriately, so you can get back to using your well with peace of mind.
Call or text us today at 541-533-2509.